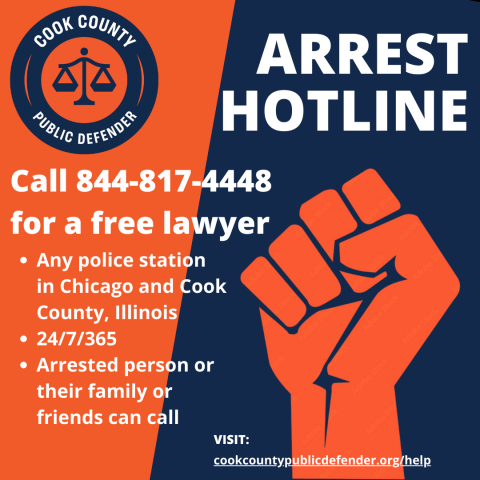 The calls come in day and night, seeking legal help for someone who has been arrested.
The Cook County Public Defender's Arrest Hotline – 844-817-4448 – operates 365 days a year, 24 hours a day, taking calls and providing vital legal representation for people being detained by law enforcement anywhere in Chicago and Cook County.
No matter what the hour, an Assistant Public Defender immediately makes themselves available by phone or in person to provide expert legal assistance.
"We are helping people who are in a situation where the whole weight of the state is against them. Often, they don't have any idea how the criminal justice system works, or of their basic constitutional rights," says Scott Finger, a nine-year veteran public defender with a passion for police station representation. "Everybody deserves to have a lawyer help them in that situation."
KNOW YOUR RIGHTS
Once in contact with the arrested person, the public defender explains their right to remain silent and their right to have an attorney. Read more here about the rights of someone in police custody.
The person who is in police custody can invoke their rights out loud to a police officer with the attorney present and sign a declaration that they have representation. This puts police on notice that they cannot question the person further without a lawyer present and helps protect the arrested person if they are charged in court.
Our attorneys also contact family members to explain the next steps and let them know that their loved one has been able to speak to a lawyer. This helps provide reassurance at a time of shock and stress.
"The work of this unit is incredibly important," said Emmanuel Andre, deputy of policy and strategic litigation at the public defender's office. "Police and detectives are skilled at manipulating someone who is arrested, and people can too often be persuaded that if they just make a statement, they'll be free to go home."
"Many people who are arrested don't understand that making a statement to the police will always be used against them. It's very important for them to exercise their rights," Andre said.
HOTLINE HISTORY
Chicago has a long history of civil rights abuses at police stations where police would coerce and torture people into false confessions. Many people were detained incommunicado at police stations and black sites such as Homan Square.
Here is the history of the response to this issue:
Systematic denials of attorney access to people in police custody led to the formation of First Defense Legal Aid (FDLA) in 1995. For more than 20 years, FDLA ran a mostly volunteer arrest hotline to respond to people in police custody.
In 2017, Circuit Court of Cook County Chief Judge Timothy Evans signed an order to provide free lawyers for arrestees in Chicago police custody.
In 2019, recognizing the essential nature of this service for our clients and everyone arrested in Cook County, our office took over responsibility for the FDLA hotline.
In 2021, our office successfully changed state law to guarantee that anyone in police custody be allowed three phone calls within three hours of being arrested. Police stations must also post signs about the right to phone calls, and, in Cook County, provide the phone number for our Arrest Hotline.
Over the years, the attorneys in our office say they have observed improved access to lawyers for people in police custody
"That's a real policy victory for this office," said Finger, who has represented hundreds of people at police stations.
REQUEST MORE INFORMATION
The public defender's office is committed to increasing public awareness of constitutional rights and improving access to our representation. If you are interested in having someone from the Arrest Hotline team visit your school or community organization for a Know Your Rights workshop, please contact the office's director of community engagement at alexandria.santistevan@cookcountyil.gov.