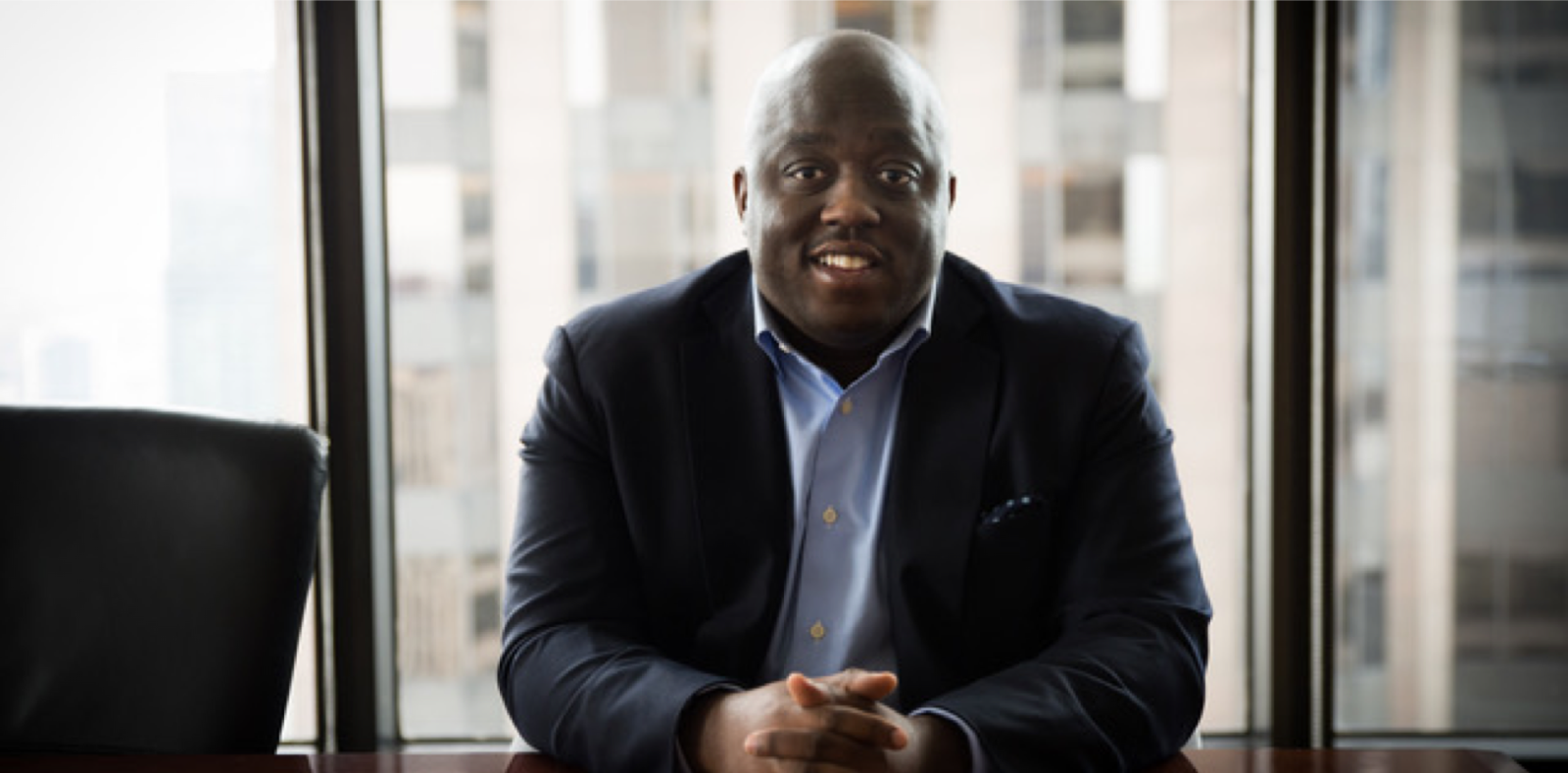 Cook County Public Defender Sharone R. Mitchell, Jr., is a passionate advocate for the rights of everyone represented by the Public Defender's office and for reform to increase justice in the legal system and to keep communities safe.
He was nominated by Cook County Board President Toni Preckwinkle, confirmed by a unanimous vote of the Cook County Board and was sworn into office on April 1, 2021 for a six-year term as Public Defender.
Public Defender Mitchell began his legal career in the Law Office of the Cook County Public Defender, first working as a clerk in law school and later as an assistant public defender with assignments in the Civil, First Municipal, and Felony Trial Divisions.
The Law Office of the Cook County Public Defender is one of the largest unified public defender offices in the nation with more than 650 employees, a budget of approximately $85 million, and 23 divisions and units. The Office provides legal services for people who cannot afford to hire an attorney to represent them in misdemeanor, felony, traffic, domestic violence, juvenile delinquency, child protection, and similar cases and appeals.
In 2016, Mitchell joined the Illinois Justice Project (ILJP), a policy reform organization dedicated to supporting people, programs, and policies that can reduce inappropriate incarceration, improve community safety outcomes, reduce recidivism and increase justice in the legal system.
Mitchell became Director of ILJP in 2019 and solidified its reputation as one of the state's leading criminal justice reform non-profits.
During his tenure as Director, ILJP helped lead the Coalition to End Money Bond's successful effort to outlaw wealth-based pretrial incarceration in Illinois. ILJP also worked with the Building a Safe Chicago Coalition and others to convince state leaders to direct 25 percent of cannabis tax revenues towards treating the root causes of harm in objectively identified areas of the state through the R3 (Restore, Renew and Reinvest) grant program. An advocate of alternative approaches to public safety and helping men and women re-enter their communities, Mitchell has fought against proposals to make the Illinois sentencing system more barbaric and ineffective.
His dedication to systems change and reducing community harm was recognized with the Safer Foundation Visionary Award in 2020 and the Barbara Jordan Award for Excellence in Judicial Advocacy and Education from Judicial Accountability PAC in 2019.
Mitchell's volunteer service includes membership on the boards of three non-profit organizations, including the Associate's Board of Chicago Debates, which facilitates high school debate competitions in the Chicago area. In 2021, he was named Chicago Debates' Alum of the Year.
He also serves on the Board of St. Leonard's Ministries, an organization that provides comprehensive residential, case management, and employment services for those released from prison without resources, and the Board of Live Free Chicago, the local chapter of Live Free USA, a national faith-based organization created to organize people of color against mass incarceration and violence.
Mitchell has a bachelor's degree in political science from the University of Illinois at Urbana-Champaign. He earned his law degree from DePaul University College of Law. A lifelong resident of Chicago, he grew up in the West Pullman neighborhood and is a Morgan Park High School graduate.