Thank you notes adorn the walls of Maria Gordils' office at the Cook County Public Defender's Office. Over the years, clients and their families have written to Maria to express gratitude for her helping them "get their life back."
Maria is a Mitigation Specialist on a team that this office has recently expanded. Working along with defense attorneys she has helped countless people receive lower sentences than they originally faced, or a life sentence rather than death, back when Illinois still had capital punishment.
When a person comes before a judge for sentencing, the court is often aware of only a sliver of their circumstances.
This is where a Mitigation Specialist comes in, playing a key role to advocate for a fair sentence by putting together a thorough report on the person's life story.
"My calling is to help as many people as I can," Maria says. "I consider myself a storyteller. I'm telling the story they can't tell. I humanize the person in the judge's eyes and explain why this person deserves another chance."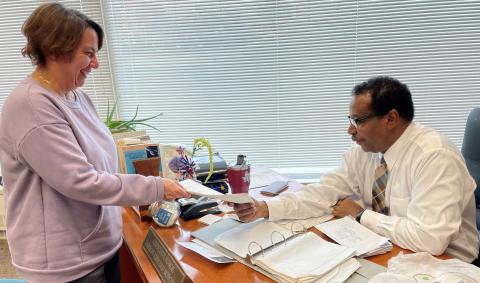 EMERGING FIELD
Maria began working at the Cook County Public Defender's Office in 1986, and in 1990 she became a Sentencing Advocate in a pilot program at the office. At the time it was a very new type of work, and since then the job title has changed to Mitigation Specialist. While there are no specific courses or certifications to become a Mitigation Specialist, the profession is growing and formalizing.
The National Alliance of Sentencing Advocates and Mitigation Specialists (NASAMS), a section of the National Legal Aid and Defender Association, works to advance the field by fostering professional development and upholding ethical standards.
At first, Maria was assigned to interview minors before their probable cause hearing. Later she was assigned to adult felony cases and went on to work on some 20 death penalty cases. She is proud that none of the clients she was assigned to received the death penalty. In one case she recalls being on the stand for three hours when she was nine months pregnant. "I knew I had to be there for him and tell his story," she says.
Maria, a native Chicagoan, has a bachelor's in criminal justice at Northeastern Illinois University. She is Puerto Rican and says that being bilingual has been an enormous asset as she speaks with many Spanish-speaking clients and their families.
KEEPING KIDS OUT OF ADULT COURT
Maria returned to the Juvenile Division more than 20 years ago, and in recent years her focus has been preparing mitigation reports for minors accused of a serious crime, who face possible transfer to adult court following a discretionary hearing. Transfer to adult court, which is automatic for older teens accused of serious crimes, implies harsher sentencing and less opportunity for individualized programs.
She has worked on close to 500 cases and most of the kids she has advocated for remained in juvenile court.
"Winning a transfer hearing gives the kid his life back. That's a lot of weight on your shoulders," she says. "I put in 110% on each kid. I call them my kids."
MARIA'S APPROACH
Maria can spend weeks on a case, reading police reports and school record files that can run into the hundreds of pages. She has traveled to Indiana, Wisconsin and as far as Mexico to interview parents, stepparents, relatives, employers, pastors and teachers. She writes lengthy reports on the relevant background about the person.
"You can't just go one time and expect them to open up about everything in their life. I spend time getting to know them," Maria says.
She says she has been given the gift of making people comfortable. She establishes rapport by doing interviews in person, taking notes with a pen (not on a computer), wearing casual clothes, and opening up about herself so that people can relate to her.
Through the process she develops relationships with the client and their family, thus the thank you cards that she proudly displays. "It's about caring about someone. I always think, what if this was someone in my family?"