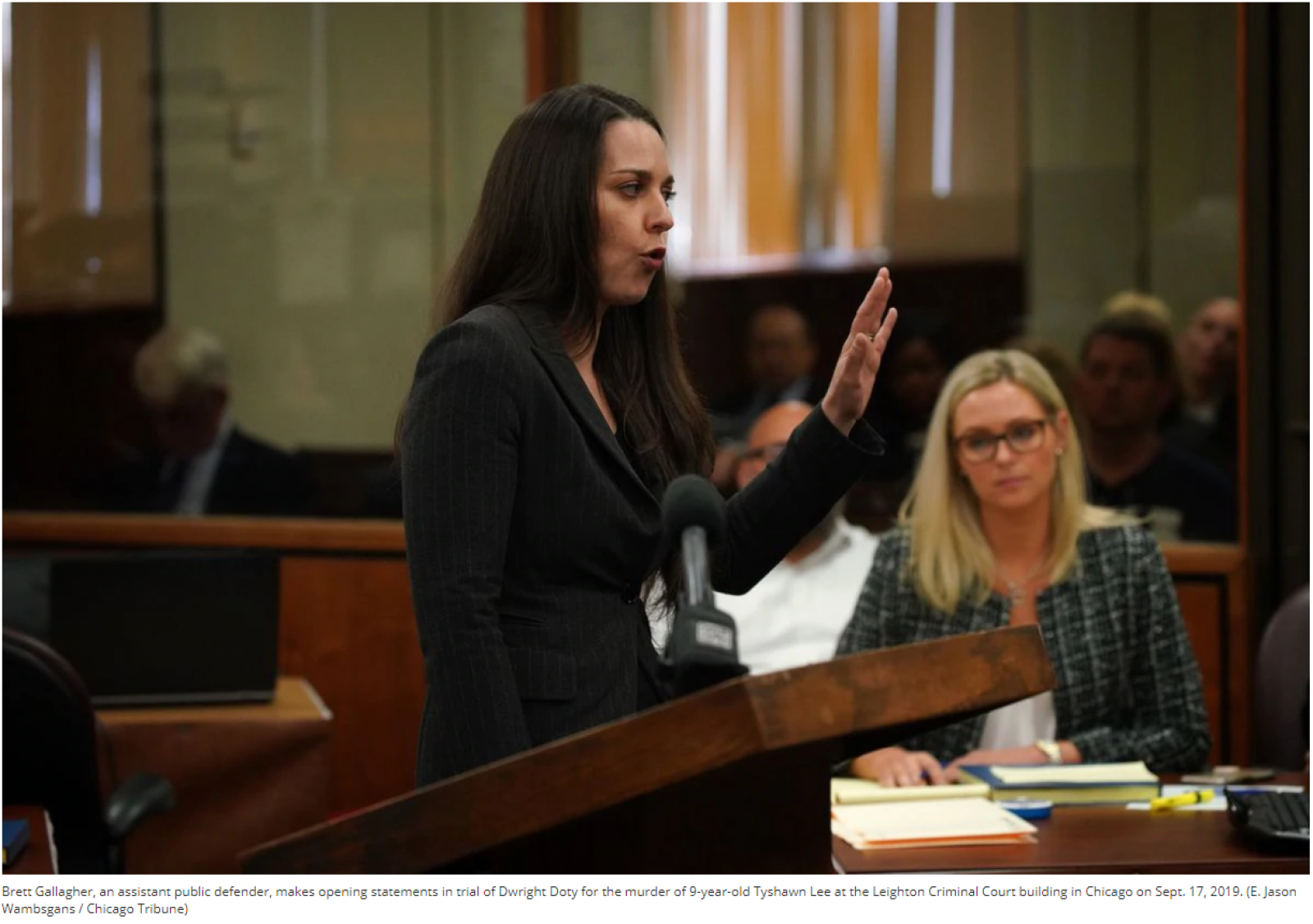 Lawyers for two reputed gang members on trial for the 2015 killing of 9-year-old Tyshawn Lee unsuccessfully sought a mistrial on Wednesday, incensed that Chicago police withheld what they considered key information from them until this week.
Police didn't timely hand over evidence to prosecutors that officers had stopped two men on the street for questioning in 2017 moments after recovering five guns, including the Smith & Wesson .40-caliber pistol later linked through testing to Tyshawn's killing, the defense said.
If they had the information sooner, attorneys for Dwright Doty and Corey Morgan argued outside the presence of jurors, they could have investigated the two men as possible suspects in Tyshawn's killing.
As detailed in a front-page Tribune story last week, the gun that killed Tyshawn wasn't found for more than a year after his slaying — and then only by chance. Officers patrolling West Englewood noticed a group video-recording a makeshift music video in a vacant lot in the South Side neighborhood. Spotting the squad car, they took off running, tossing the five semi-automatic handguns along South Wolcott Avenue.
A police report about the guns' recovery — turned over to the defense long before trial — made no mention of the street stop.
It wasn't until Tuesday — more than two years later — that the police, however, told Cook County prosecutors they had briefly stopped two of those seen fleeing that night in April 2017, prosecutors told Judge Thaddeus Wilson. The two were detained for a few minutes, but neither was arrested nor charged.
"That information was suppressed by the Chicago Police Department until the midpoint of this trial," Todd Pugh, one of Morgan's attorneys, said in seeking the mistrial. "We could have conducted further inquiry, and perhaps there's a strong probability that we would have secured this music video. ... There were individuals that were on film in a music video waving weapons, one of which turns out to be a murder weapon in the most sensational murder trial that this county has seen in 10 years."
Prosecutors acknowledged that the late disclosure by police was not ideal but said the defense attorneys were "taking great advantage of a simple mistake."
"We're doing a lot of what if-ing here today," Assistant State's Attorney Thomas Darman said.
Darman argued that the two stopped by police were too young to be a match for the men in their mid-20s spotted by eyewitnesses shortly before Tyshawn's slaying in November 2015.
Doty and Morgan are in the second week of a trial on charges they targeted the boy since his father belonged to a rival gang suspected of fatally shooting Morgan's brother and wounding his mother in an attack just weeks earlier.
 
In denying the defense motion, the judge said that under "the totality of circumstances" the incident did not rise to the level of a mistrial.
Though unsuccessful, the defense attorneys used the new information to conduct an intense cross-examination of Chicago police Officer Eulalio Rodriguez, who was among the officers who recovered the weapon and wrote the "investigatory stop report" on the two detained.
Defense seeks mistrial after Chicago police hand over key evidence in midst of trial into 9-year-old Tyshawn Lee's killing